Forte Design
Strong & Stable
Use of stone in many different parts of Forte, provides the contact with a luxury and strong space. Therefore the contact will have superb feeling stone material in terms of visual and tactile sensation. Indeed, elements have been positioned in a frame form to induce feeling of balance and comfort to the contact visually.
Reasons for choosing Forte
Full stone island that shows off its strength.
Attractive and functional design of handles manufactured by CNC machines that cover the cabinet in a frame form.
Special and beautiful design of cabinets in a frame form.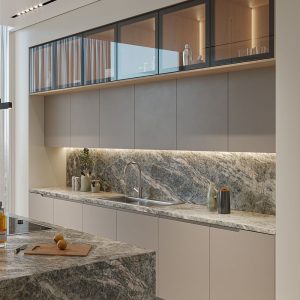 In this model, wall cabinets have been designed in two different depths that helps the kitchen with beauty and uniqueness.
Forte Gallery