Nuova Design
Stylish & Innovative
In Nuova, the latest mechanism for opening and closing doors (pocket door system) and prettiest and latest finishing of stone designing have been used, this technology enables the contact to use latest and beautiful kitchen.
Reasons for choosing Nuova
Doors with pocket system technology that provides maximum use of space due to opening and closing door toward inner space of the cabinet.
Sink and hob with full stone materials and lineal design technology that provides the contact with visual beauty in addition to feeling of strength.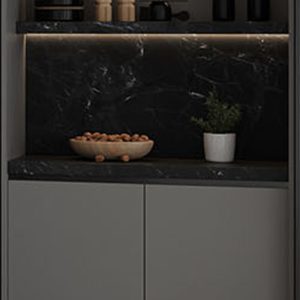 Stone worktop which makes a luxury and pretty space in the kitchen in addition to longer useful life.
Aluminum face handles that cause beauty and easier use and is consistent to other elements of design in the kitchen.
Nuova Gallery